#1)
Do A NachoBirthday
Explainer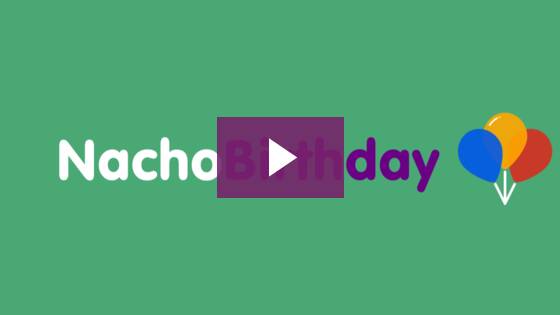 NachoBirthday.com is the 1st birthday funding engine.   "It's the ultimate thing to do on your birthday" watch the explainer video above to learn more.
How to do a NachoBirthday ?
How To
Does it have to be my birthday?

… NO , Nachobirthday.com is a tool people can use to celebrate life. Think about it; every day should be celebrated because it's a new day, a new chance. So we encourage users to be creative and celebrate life everyday whether it's your birthday or NachoBirthday.
Get Ready , Set...... GO !!!!
Start
Why Should I do a NachoBirthday ?
Because... you make the difference, Because you are different, Because life Short & is about adventure, Life is about helping others, Because it's your special day
11 OTHER THINGS TO DO ON YOUR BIRTHDAY
# 2)CASINO BIRTHDAY 
Other than doing a NachoBirthday, what's more exciting than wining money on your birthday?!!  This is one of those things to do
on your birthday you don't want to miss. If you are 18 or older why not … you never know! This is a fun way to spend time with either a lot of friends or just a couple.  Win or lose you can still have tons of fun!!! There are many different types of gambling such as table games, slot machines, even try horse racing games.
(Note* plan ahead on the amount you will like to spend, and only go with that amount. Think of it as for fun, and nothing more)
#3) JET SKIES FOR YOUR BIRTHDAY 
Do you live by the ocean or even a lake? Or are you willing to take a little trip? Then I suggest renting some jet skies for a couple of hours and have the time of your life. This is a great thing to do on your birthday, and if you go with friends and a budget, it's really not that expensive. In most states and places you don't need a license.  This is a good Idea to crowdfund for on NachoBirthday.com.
(Note*Always wear a life jacket. Safety is paramount for you and your friends)
#4) TEST DRIVE YOUR DREAM CAR ON YOUR BIRTHDAY
Test drive your dream car at your local dealership. This puts motivation to your dreams and hey it's also fun!!!! Things to do on your birthday can be the thing you have been eager to do ever since, like this one. Just go to the local dealership of your choice and ride away (not literately). It doesn't take that long and it's a nice experience for a birthday. I enjoy going to the Mercedes dealership and try my luck at driving their sport coups. Sometimes if you just tell the dealer up front that you are just looking to test drive and it's your birthday they might be willing to let you drive the car longer or even let you try multiple cars. Sometimes just renting a nice car for a day is worth it. Ride around town in style on your birthday.
#5) GO WATCH A GAME FOR YOUR BIRTHDAY   
For all those who love sports and want to check out a game, GO and do it. It's a fun thing to do on your birthday.  Try and plan your birthday or your NACHO Birthday around your favorite local team or team that is playing your favorite team.  This is a great way to have a fun night. Try and look up tickets early for great cheap seats. Tickets to NBA, NFL, NHL, etc. can all be found at Stub hub for a good price.
(Note* If you find cheaper prices elsewhere, please go for it…)
#6) PAINTBALL FIGHT
Ok this fun thing to do on your birthday is going to take about 2 to 10 cool people just like yourself to make it happen. Trust me it is super fun. If you have done this before you know it is loads of fun with a great adrenaline rush to match. This activity can be done with guys and girls of all ages. My take… girls really like this sport; in fact sometimes they are even better than the guys lol. There are many themes such as capture the flag and more. You can use NachoBirthday to help pay for a game or even buy your own paint ball gun.
(Note*no offense guys, I just happen to have seen some girls really good at this… disclaimer: don't quote me, except you see for yourself)
#7) GET ON TV BY BEING AN AUDIENCE MEMBER ON A TV SHOW 
How about being on national TV for your birthday? You never know… you might win something big to take home. You can even take a trip somewhere one of your favorite celebrities might be performing in an open setting. I know this sounds kind of stalker(ish) but what I'm thinking is more like a book signing, a red carpet event, or charity event.
#8) CLUBBING FOR YOUR BIRTHDAY
If you're still looking for things to do on your birthday, well clubbing could be it.
You are never too old to club; maybe too young for some clubs. Don't do anything fishy… they do have teen clubs. You just have to find the club that fits your age range to enjoy the best.
Age ranges for teens are 14-17, young adults 18-21, 21-25 adults 25 – 35 older adults 35-45, 50 &up. Clubs could range from lounges to more social clubs; even comedy clubs are always fun.
(Note*By now you know I mean going to the club when I say "clubbing", and not anything that involves using a club (bat) )
#9) GO VISIT FAMILY
One great thing to do for your birthday is to visit parents or relatives. If they are not nearby, give them a call. They can help you remember birthdays that are long past. One of the most important things is to let everyone else know it's your birthday. You may get a gift or even a free meal or discount at the local restaurant. Of course, be sure to bring along identification. After all, you may be the only one who knows it is your birthday!
#10) PHOTO SHOOT
Selfies are now a part of human life. And it only makes sense to have a photo shoot on your birthday. Be creative and do theme photos shoot with friends. My suggestion, be cave men for the big 25 or babies for the big 40 or Las Vegas baller for the 18th birthday (Ok, I get it… Just be creative). They now have apps that can take cool photos with the ability to do some cool edits. Once again, all you have to do is be creative.
 BONUS) BIRTHDAY FOR YOURSELF
One of the things to do for your birthday is nothing at all! Especially when considering that many companies give their employees a day off for their birthdays. I will say turn off the alarm and snooze in. Okay, maybe go out and buy something for yourself. It doesn't have to be expensive, only something you want. Things to do on your birthday can include getting your hair and nails done or even getting a massage. Use Nachobirthday.com to crowdfund your birthday massage.
Visit www.nachobirthday.com for more birthday tips and ideas.
What Are You waiting For ?